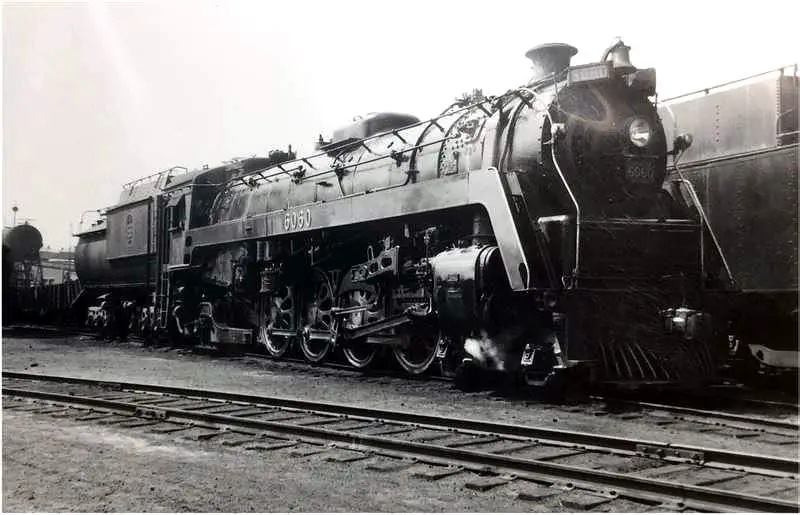 CN 6060 is a Mountain type steam locomotive owned by the Rocky Mountain Rail Society. It was built in November 1944 by the Montreal Locomotive Works and classified as U-1-f by CN. It operated on CN until 1960, and was put on static display in Jasper, AB in 1962.
In 1972 it was rebuilt in Jasper, AB and became CN's main excursion locomotive until its retirement in the early 1980s. It was restored starting in 1985, thanks in large part to Harry Home, and ran to Vancouver on its own power for Steam Expo 86.
After Expo 86 it was stored at the Alberta Railway Museum until 1998. It was moved to Stettler and operated there for several years until it was put into storage in 2012. There are efforts to restore it back to operation yet again.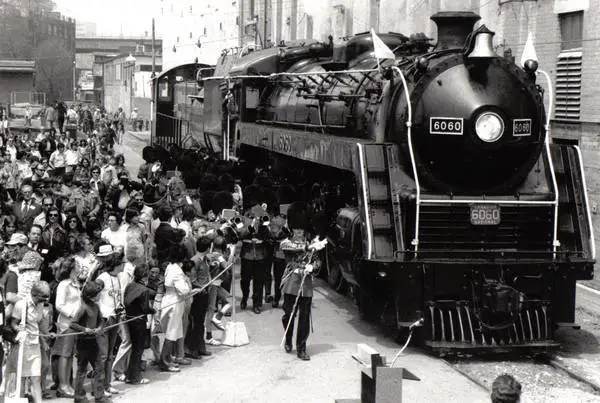 CN 6060 is 93 feet long, with a height of 15′ 1.5″ and has an operating weight of 637,540 pounds or 318 tons. It burns oil and its tender can hold 5,000 imperial gallons of oil and 11,000 gallons of water.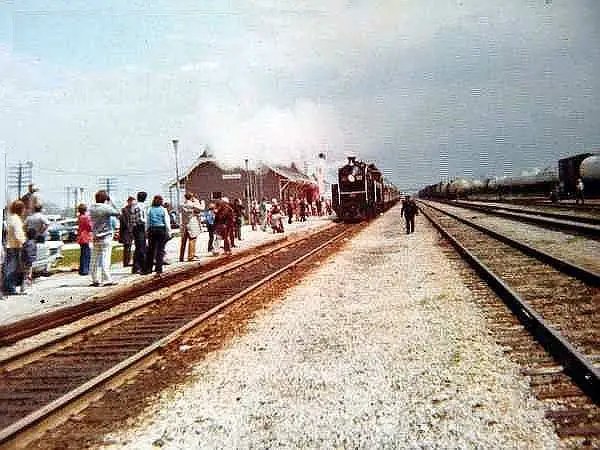 This picture was submitted by Cliff Morreau. His father Fred Morreau worked for CNR for 44 years until he was forced to retire. His father took him for a ride in 6060. He was just a kid then but he still remembers that day.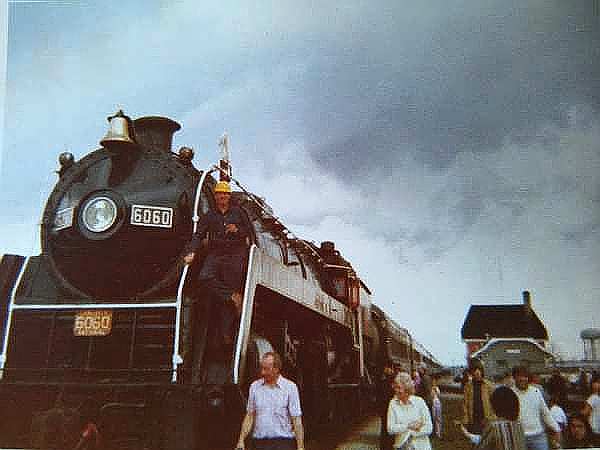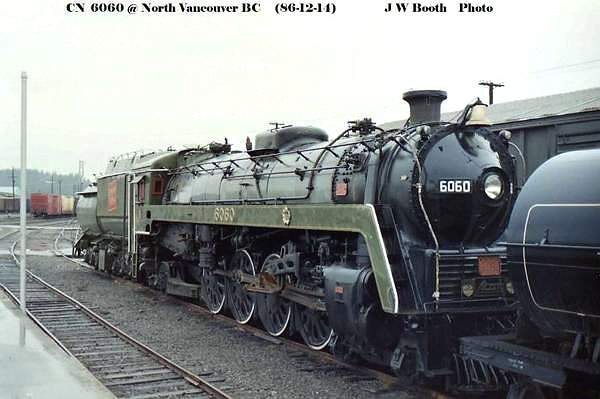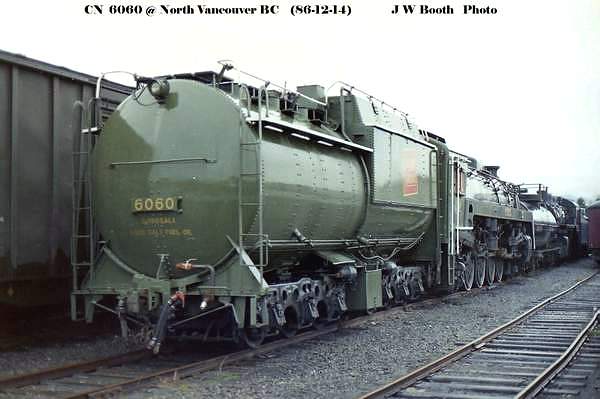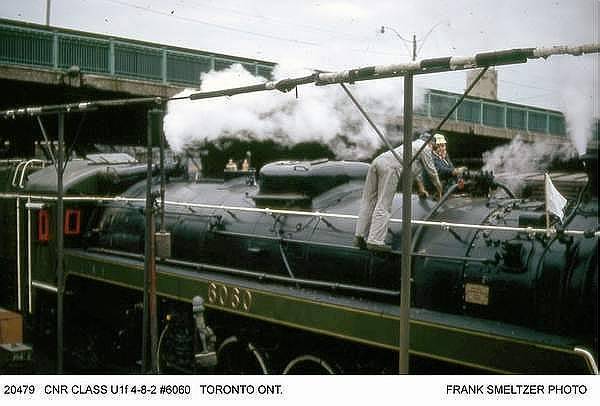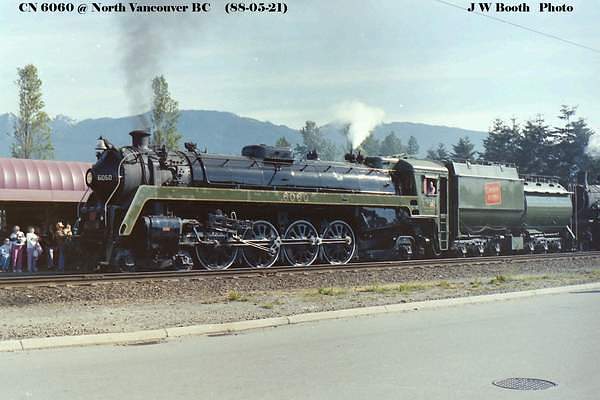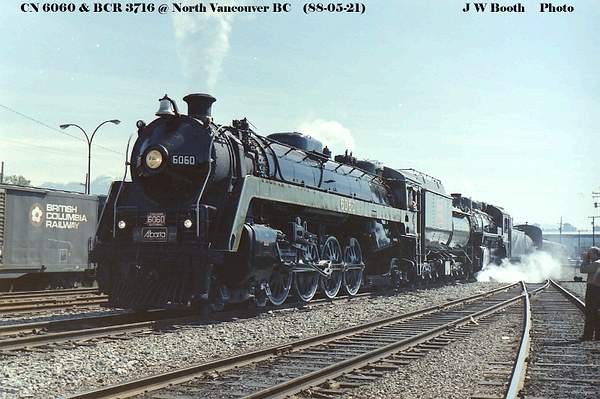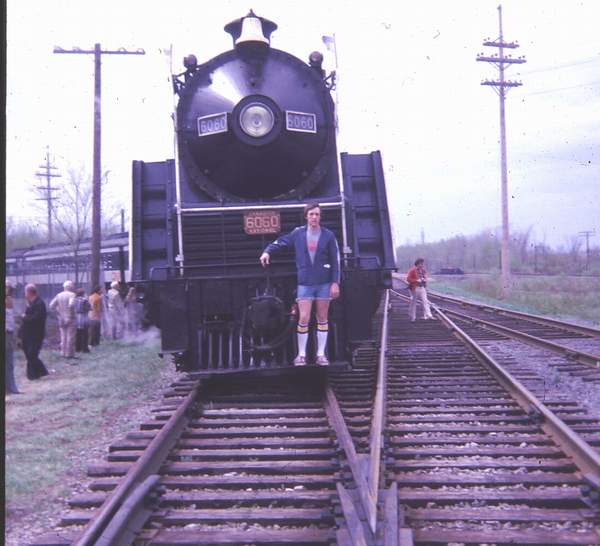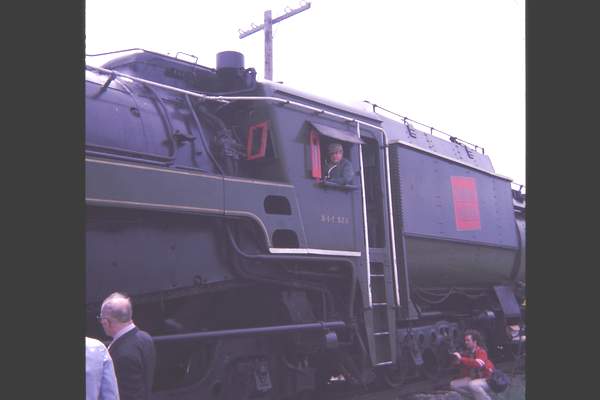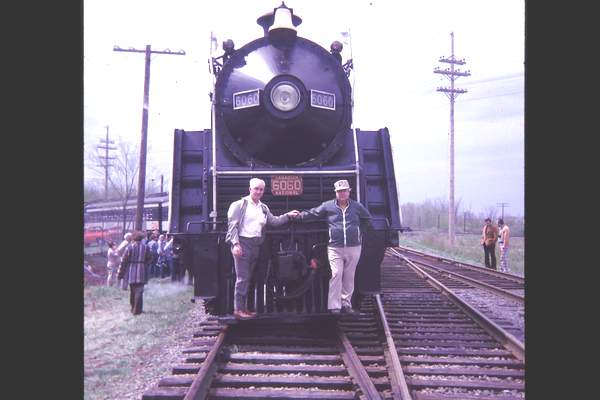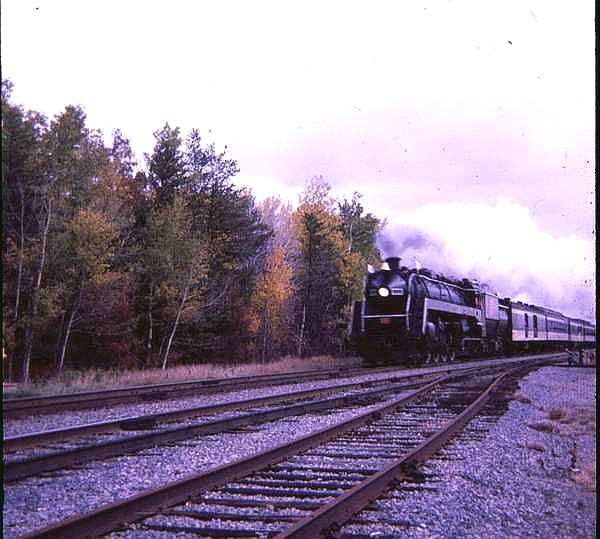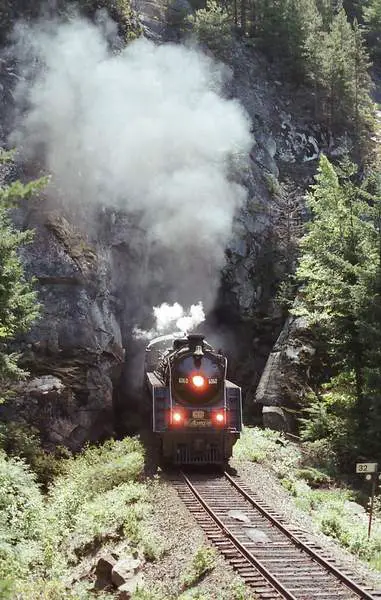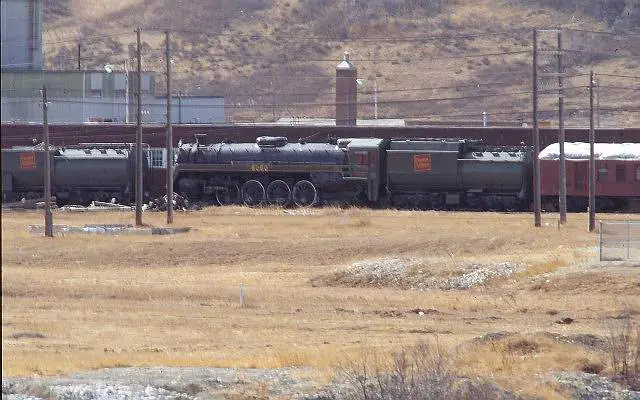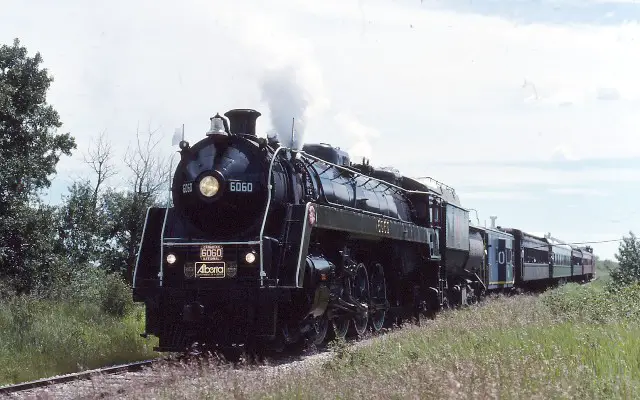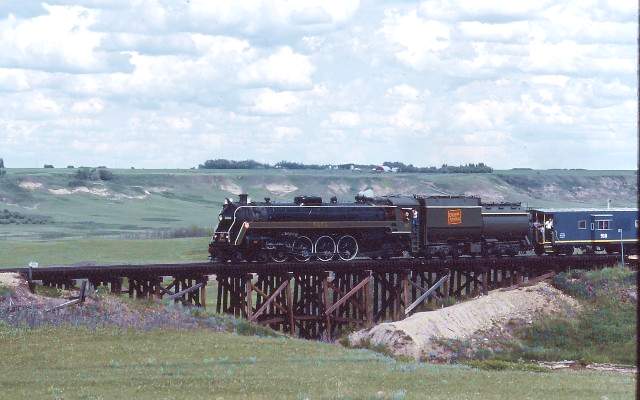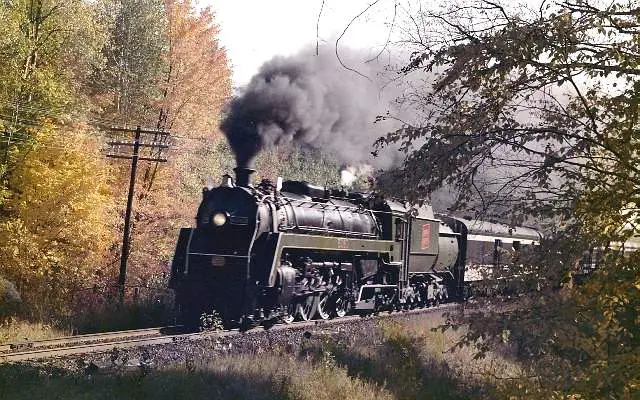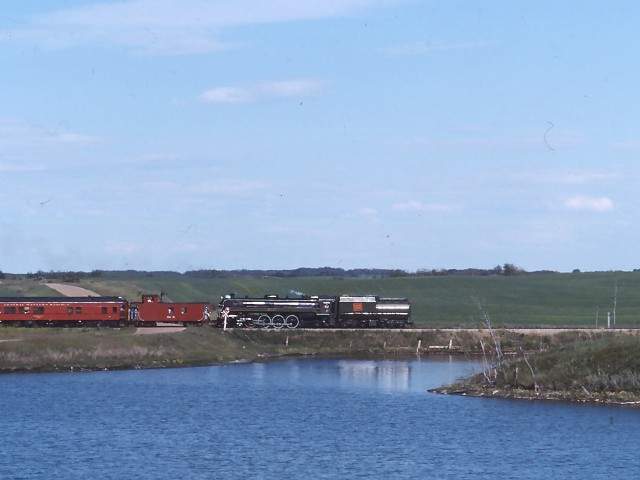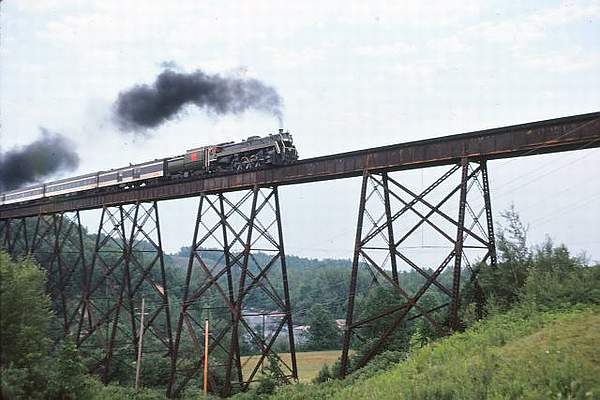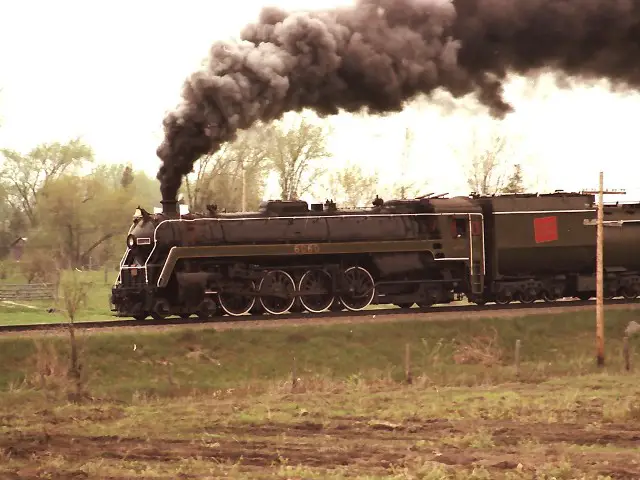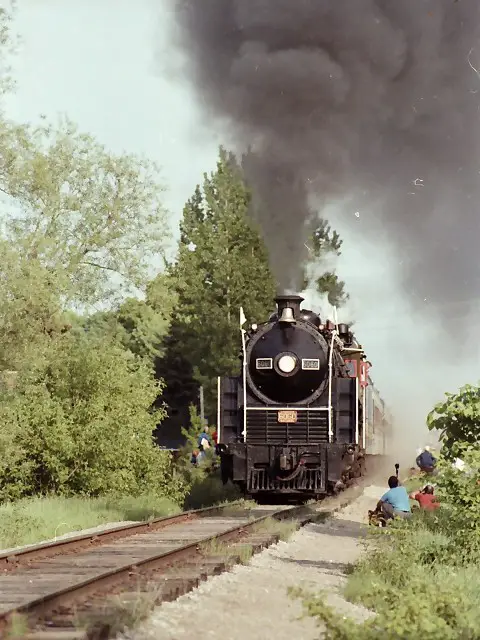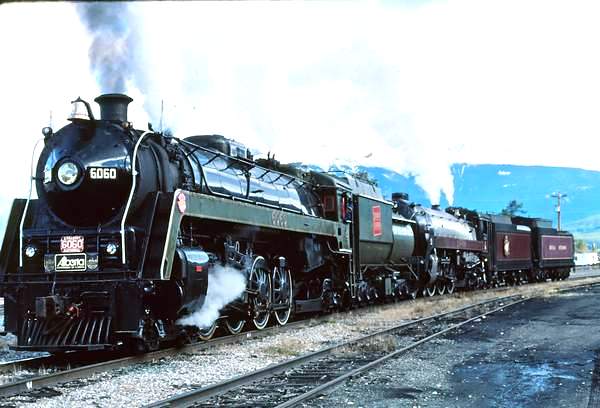 CNR 6060 and BCR2860 Jasper 22, Oct, 1988 giving a farewell whistle as they were leaving Jasper, AB on their return from Expo 86 (after it finished service on BC Rail – the rock tunnel picture). Subsequently, 6060 encountered severe mechanical breakdown which forced it to stay at Jasper and it was never again allowed
to run on a CN mainline in the west.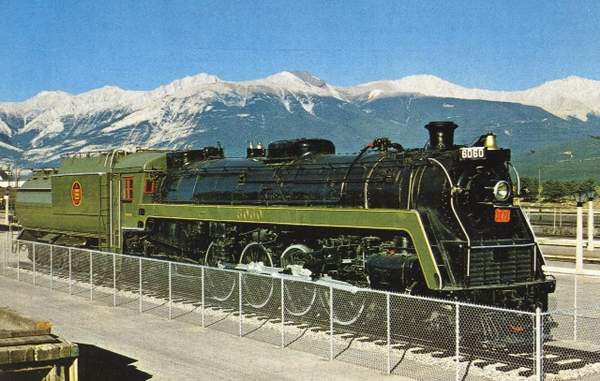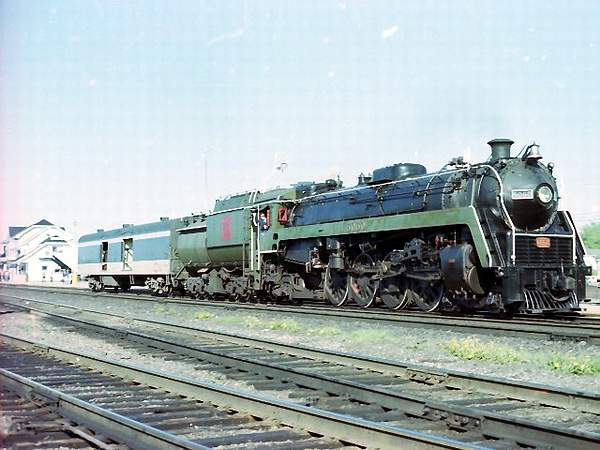 Following static display in Jasper AB and subsequent restoration in 1972-73 at the CN Pointe St-Charles Shops, 6060 made an inaugural trip from Montreal to Victoriaville in September 1973 and then this Canadian Railroad Historical Association fan trip from Montreal to the Garneau Marshalling Yard (Triage Garneau), situated about a half hour east of Shawinigan QC on the CN Joliette Subdivision. Several railfans wait near the station to the left, while the locomotive, after having being turned around, is backing up to the rest of the train.
After a few more railfan trips in Québec, Vermont and Maine, 6060 steamed to Ontario where she operated in excursion service for rail association fan trips and in scheduled service to Niagara Falls with side trips to Yager during summer weekends, before being donated in late 1980, to the Province of Alberta to commemorate their 75th Anniversary.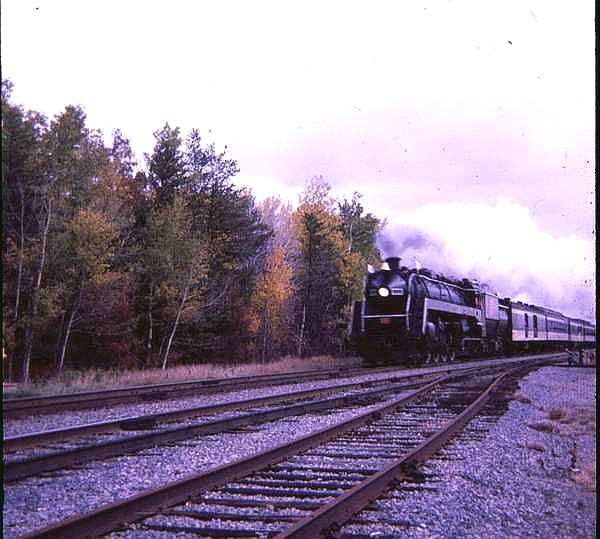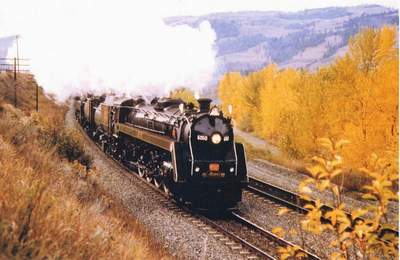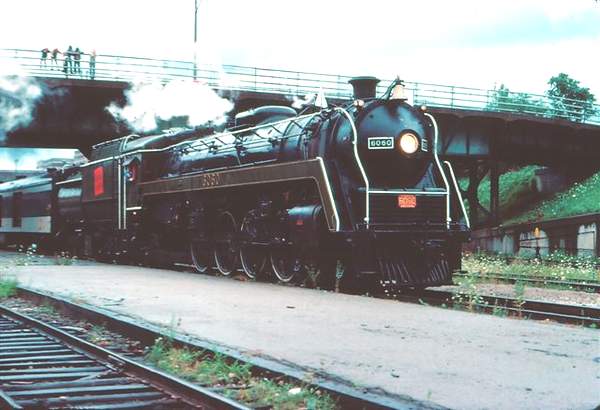 These pictures were submitted by Don Fraser, Ancaster, Ontario. They are digital copies of Kodak
35mm transparencies taken at the old CNR station in Hamilton, Ont., early to mid 70's. His wife and two young daughters boarded the train on a day excursion run to Niagara Falls and back.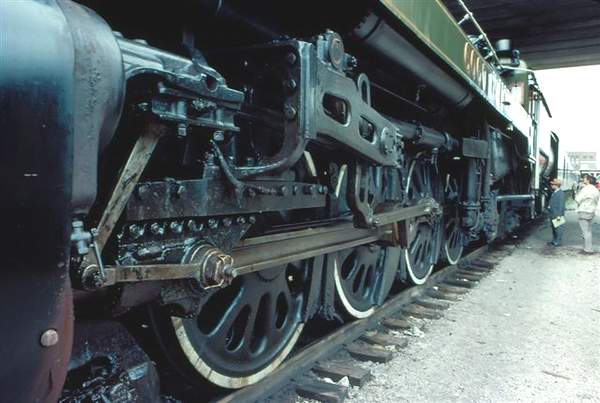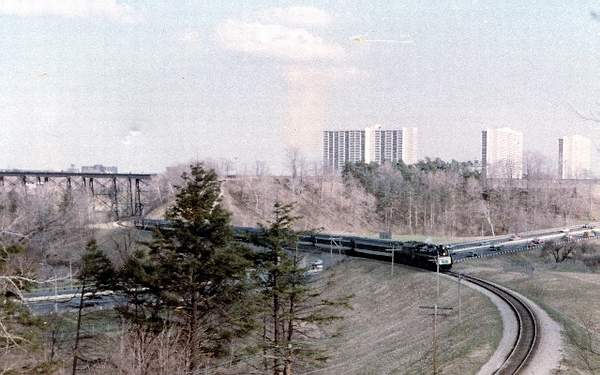 This scan, from an early colour print, has always been a puzzle to me. Taken on Saturday April 29, 1978, from Bloor St E., it shows CN 6060 in Toronto's Don Valley, displaying a GO Transit sign. At the time, 6060 was operating regular Toronto excursions to Niagara Falls, after its rebuild at the Pointe St Charles shops in Montreal, following; retirement from regular service. Because the Government of Ontario would not fund some eventual repairs, CN donated the locomotive to the Province of Alberta in 1980. I did a bit of research and it would appear that the 6060 is celebrating upcoming GO commuter service to Barrie. GO service started 7 September 1982, with service on the CN Newmarket Sub but only as far as Bradford, a few miles south of there. The roadway under the train is the Don Valley Parkway. The bridge in the background is probably CP track.

Massey F. Jones
More on CN 6060